The month of March ends with a growth of +10% in the total Capitalization of the cryptocurrency market, highlighting some tokens that close the month with good results, such as SKL +90%, CHZ + 48% or AAVE + 45%, but of course the winner of March has been ZIL whose price was below the levels of June 2021 and which has generated +323% in the last 30 days.
Zilliqa is a Layer 1 Public Blockchain that attempts to solve scalability issues by using sharding solution. This allows you to increase execution speed by offering the ability to complete thousands of transactions per second.
Additionally it offers developers the option to create Smart Contracts and dApps using its own Scilla programming language.
Its native ZIL token is used to process transactions on the network and execute smart contracts.
ZIL was first put up for sale as an ERC-20 token, but was subsequently transferred to the Zilliqa core network in January 2019.
If we analyze the price evolution of ZIL, we see how it is following a long-term upward trend that began in March 2020 and left its ATH at $0.255 in May 2021.
From this point, a downward movement begins that has corrected the price to $0.035 (2022 annual low), where we see a support zone that in 2020 acted as resistance.
This price, as we mentioned at the beginning of the post was in a more deteriorated situation than in June 2021. Unlike ETH and BTC, which are trading above that reference minimum, generated a lateralization zone between $0.035 and $0.06 , which was the turning point prior to the upward movement it has made over the last week.
If we pay attention to that range generated during the first weeks of March, we see how the price begins to break out of the more bearish guideline after generating a bullish divergence in the RSI, which indicates the lack of strength in the downward movement.
But the turning point began on March 26, with a significant price increase that led to an exponential increase in its social volume, with a high component of euphoria, and as we can see in the following graph, with a bullish replica in the price.
After that first impulse, the price managed to break the next resistance zone located at $0.14 and reach $0.22. This broken resistance at $0.14-$0.15 could become a support zone if there is a pullback movement after the breakout, which is clearly seen in the image below.
We will have to be very cautious of how the scenario develops in the coming weeks. If the price fails to break the resistance of its ATH ($0.255) it may enter a consolidation phase that would cause a sideways movement between both zones.
To finalize, I would like to mention the evolution of the BTC dominance chart, which as we have seen in recent publications, had generated a double top figure at 1h and during this week has made a new monthly low reaching 80 % of the technical figure target.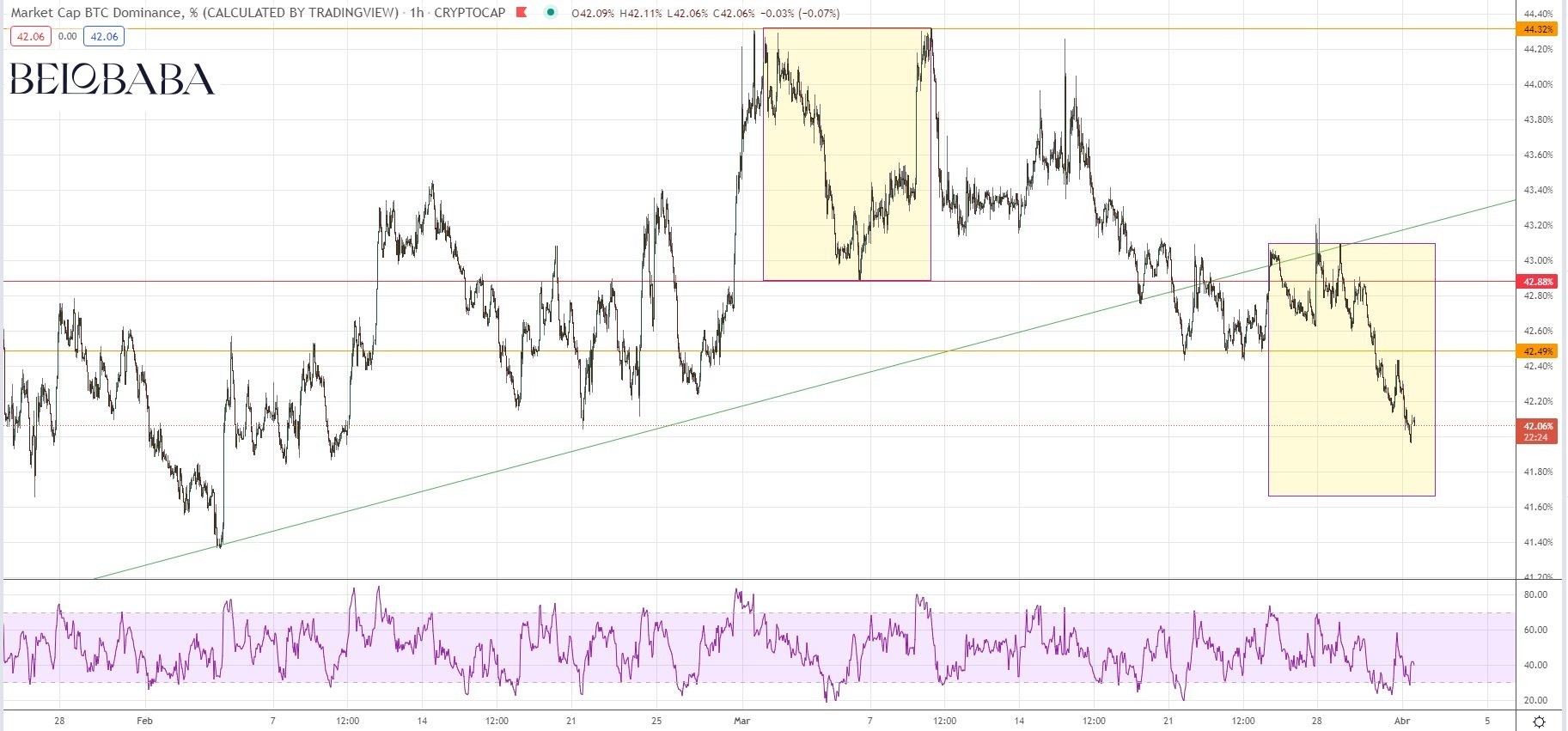 If we cross this bearish movement in the dominance of BTC with +3% weekly increase that the Total Crypto Market Cap has made, it tells us that over the past week, the market in general has increased, but market of Altcoins has benefited much more. Remember that the BTC dominance graph helps us understand what phase of the market we are in and if we are able to predict movements like this figure that we proposed a few weeks ago, it helps us to position ourselves in the right tokens to optimize our operations to the maximum.
Finally, remember that nothing commented in our articles can be considered as investment advice, we all must do our own research and analysis. From the Belobaba Crypto Fund team we only show our investment tools and how they help us in our operations when making decisions.