We all love yield. We want to put our money somewhere where we can expect a return, a payment. Apart from buying low and selling high, we want extra tokens. And being able to decide.
In crypto, we say that "staking" is nearly everything that generates a yield. It all started with the Proof of Stake consensus mechanism. And it may be the safest way to create a yield because it is not subject to counterparty risk or a smart contract risk apart from the network itself.
Where there is a yield there will be a risk. Ethereum 2.0 falls into this category: it is a complex process and may be lucrative, but there are some alternatives. We should not forget that buying just because of the yield is not intelligent. We have to consider the price and see whether there is an accumulation or not.

There is some accumulation (onchain, in terms of new addresses being activated), especially in the last few months. It keeps moving in a zig-zag, so a DCA strategy may be really useful. But only if ETH does not print new lows. This is the price action perspective.
From a yield perspective: apart from fear and greed moves, we see a great opportunity in accumulating an asset that will be valuable to secure an entire network. And also, being able to vote and decide the future of the network. And that is the main difference between generating a yield on staking and generating via protocols like AAVE or Celer Bridge.
Governance will be really important in Ethereum 2.0. Miners may be really interested in maintaining Ethereum 1.0 as one of the chains that work with the rest of the shards. Zilliqa, which had a big rally recently, uses this model. POS+POW.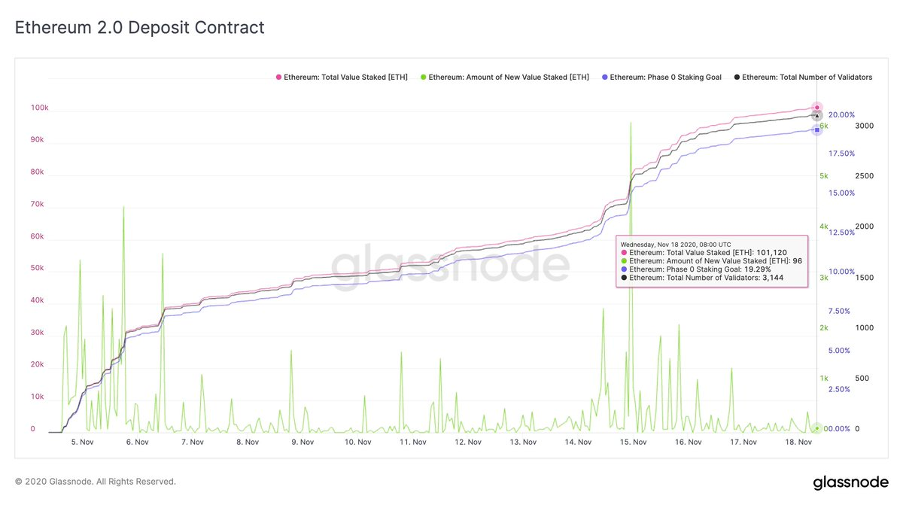 Last year we saw big moves into the Ethereum 2.0 contract. It is also important to note that there are some derivatives to issue a token that allow you to sell your stake and go short.
This happens in Solana, for example. Before the creation of Marinade and Lido huge rallies took place because it was not that easy to sell. That is why illiquid supply is useful from an analytics perspective. We have to see it as game theory, not just practical reasons.
Going from Ethereum 1.0 into Ethereum 2.0 is a complex transition. We will be talking about it whenever something really relevant happens. I encourage you to subscribe and follow our updates!