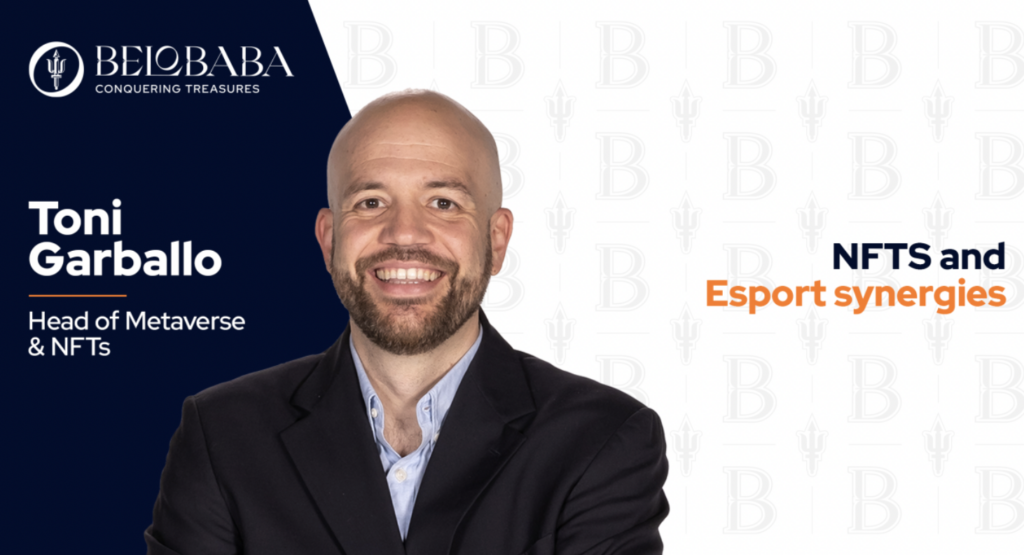 Esports and NFTs are booming global phenomena converging in parallel, with no ceiling to their potential, and irremediably drawing closer to each other with a cosmic attraction power. Why wouldn't they? There is much to be gained from their relationship. These are two rising stars of the modern world, whose symbiosis could turn into something spectacular. Esports clubs have much to gain from working with NFTs to diversify their existing revenue streams, penetrate a whole new customer base and strengthen fan engagement and loyalty.
Parallel lives
To put it in perspective, the top 100 Esports players in 2021 earned more than $1 million each, and the top 10 took home more than $4 million in prize money, in addition to other lucrative sponsorship deals. This market is a full-fledged potential. A recent study by Newzoo indicates that there are nearly 2.5 billion people aware of Esports in the world, almost a third of the world's population, of which 261 million are die-hard fans. Additionally, it boasts impressive audiences that surpass the world's most watched programs such as the SuperBowl or the Academy Awards, with streaming audiences totaling 489 million people. The value of the Esports sector in 2021 was $1.137 billion and the report suggests that by 2025, the Esports sector will grow to be worth approximately $1.9 billion. In addition, approximately 640 million people are expected to be Esports viewers by 2025.
In case you haven't heard, 2021 was a smash hit for the NFT market, this year is proving to be somewhat weaker. During the third quarter of 2021, NFT trading volumes reached $10.7 billion, more than eight times higher than the previous quarter. By comparison, and to put things in perspective, trading volume stood at just $1.3 billion during the second quarter and $1.2 billion during the first quarter.
Consequently, a growing chorus of expert voices believes that the marriage of the NFT market with that of the Esports industry could lead the latter to experience a growth rate of unparalleled proportions. In this regard, just look at some existing sports based NFTs that have seen their values skyrocket exponentially after their launch. If the NBA and UFC are getting involved, then why wouldn't any Esports brand be working on ways to adopt NFTs in their market?
With NFTs, Esports teams could produce various types of digital collectibles, ranging from limited cards signed by players to digital merchandise and videos of popular players. NFTs offer the opportunity to increase engagement with fans, something all brands desire. Passionate fans love to connect with their heroes and buy memorabilia, now with not only tangible but also unique digital assets.
Diversifying revenue sources
Sponsorships have always been the foundation of Esports revenue. The Esports audience is young, diverse and growing, making the industry a magnet for attracting brand sponsorships. The symbiosis between NFTs and Esports is not only due to the ability to increase fan engagement, but also as a matter of statistics and demographics. The average age of most Esports players is currently around 25 years old, and some teenagers have also won championship titles in the past. Add to this the fact that millennials are the most likely to own cryptocurrencies, and it stands to reason that individual operating within the two sectors are well exposed to the NFT/crypto market.
Source: Newzoo
The Esports market relies heavily on sponsorship, which accounted for nearly 60% of Esports revenue last year.
Source: Newzoo
Putting all their eggs in one basket can be risky, which is why Esports companies are striving to diversify their revenue streams. To that end, teams and organizers are increasingly exploring ways to monetize directly to fans.
Many of them are looking to blockchain technology and NFTs to achieve these goals. And we are already starting to see new business models emerge in Esports. So far, the Esports audience has been largely positive about blockchain and NFTs because Esports fans:
– Are digital natives and are therefore curious and accepting of new technologies.
– They are already accustomed to buying digital goods and items in their favorite games
This presumed acceptance clashes with the more contrarian view presented by groups of professional gamers, who see the use of cryptocurrencies and NFTs as denigrating the quality of new games. The difference is that NFTs can have a direct impact on the games players enjoy, while Esports NFT innovations focus on demonstrating the hobby, often outside of the sporting events themselves.
NFTs offer the opportunity for a significant source of revenue. Firstly, those who play Esports can subsequently trade/sell their in-game assets and achievements as NFTs. Secondly, for brands that have a large fan base, the sky is the limit with NFTs – in the form of unique collectibles such as videos, artwork and merchandise. Keep your fan base happy and make some significant money in the process. It's a win-win, right?
Not exactly. Let's remember that this is but the beginning of NFTs in a largely unregulated market. Scammers and fraudsters are ubiquitous on the Internet and have seen an opportunity to exploit the NFT market. Esports giants EA and Ubisoft have recently distanced themselves from NFT adoption and questions have been raised about the authenticity, safety and quality of NFT products.
Nobody said it would be easy
In the world of gaming, NFT (Non-Fungible Tokens) are not something new, this technology that occupied many spaces during 2021, at the beginning of this year began to lose a little strength. But that does not take away the fact that several companies involved in the world of Esports had already launched projects related to NFTs during 2021 under the worried eyes of audiences, who saw a negative potential in environmental issues and an aspect obscured by scams that abounded in the early days.
The first cameos were the release of different collections of NFTs by various teams. K1KCK, T1, Sentinels, Team Singularity, WePlay Esports, Dignitas and Virtus.pro are some of the teams that collaborated with different blockchain companies on NFT projects. Highlighting the giant OG Esports, which earned $1 million with its first NFT installment last year, selling out its NFT mystery boxes in a matter of seconds.
Although not directly related to NFTs, FTX made a very strong foray into Esports in 2021 with two big moves. The first by sponsoring the TSM team, which was renamed TSM FTX, with a 10-year $210 million contract and beyond. And secondly, the agreement closed with the LCS (League of Legends Championship Series) to sponsor it for 7 years.
In early 2022, G2 Esports began to venture into the world of NFT, allying with Metaplex to release Samurai Army NFT, a subscription system similar to being a member of a club but framed in a system that used the blockchain. This was met with a lot of backlash from the community, who did not like this system, especially when there are other ways to include the community without having to get in the middle of such a controversial and divisive technology.
Shortly after, the European team Fnatic, following in the footsteps of its classic rival, and after a closed alliance months before with Crypto.com, launched a subscription system similar to that of G2, also being received with repudiation from much of the community, although being the second one, it was also received with some resignation in more neutral sectors.
In February 2022, Yesports, one of the marketplaces specialized in Esports, announced that it had agreed partnerships with Team Empire, Renegades, Talon Esports, BOOM Esports and Fact Revolution. This comes ahead of the launch of the world's first Esports 3.0 participation platform (W3EP).
Conclusions
Even though many of the previously mentioned cases end up in nothingness itself, forgotten by time and as an attempt by organizations to find new ways of funding, the relationship of Esports with blockchain and NFT is already beginning to flourish. The idea that teams have of wanting to offer fans a system where they can feel part of the team, offer them benefits and support them financially is not necessarily wrong, after all, millions of people worldwide pay a fee per year to be members of the soccer club they are fans of, the issue lies in how these organizations manage to offer a differential value to their fan community different from traditional methods.
At Belobaba we strongly believe in the potential of the blockchain and NFTs to push the Esports industry to the next level. That's why we recently closed a top alliance with Team Queso to collaborate on this topic.