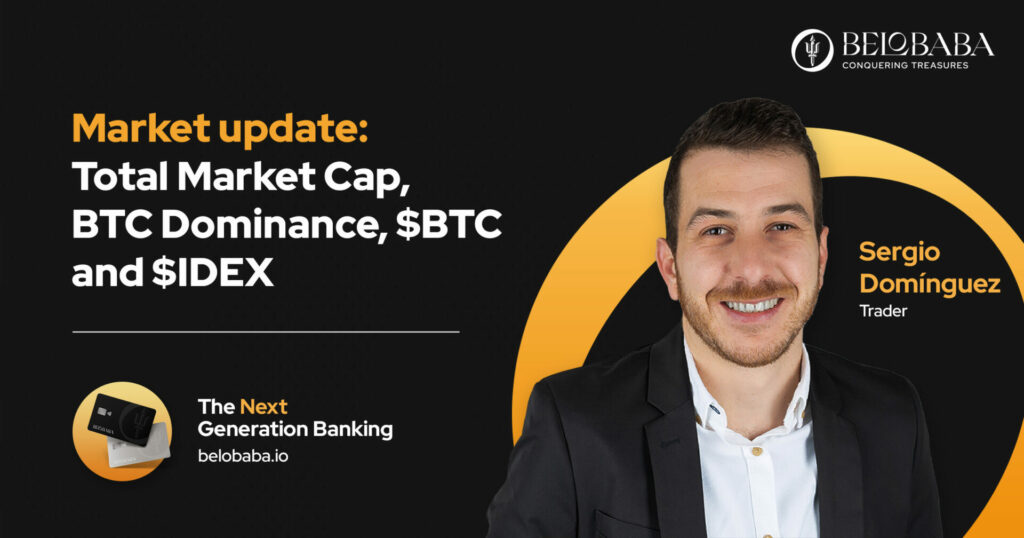 Low volatility continues in the crypto market after the first week of May, which was marked on the calendar by the announcement of interest rates in the USA last Wednesday and which, as expected, have been raised by +0.25%. This new rate hike was already discounted in the market and although it caused a slight increase in short-term volatility, it had no directionality, so it did not mean any news in the total capitalization chart, which is still in that consolidation phase after the breakout that we have been discussing in recent posts.
The main scenario therefore remains unchanged, and we are still looking for that new rising low that could even reach the $1T area, but which has a high probability of a bullish breakout over the next few months.
BTC's dominance has also undergone little change this week and remains in that upper zone of the sideways channel without giving any hint of a breakout in that area near 50%.
This leaves $BTC virtually unchanged from last week, as after a $1000 drop on Monday, it has managed to recover over the course of the week and is approaching a close to 0% close.
Remember that in this case the consolidation phase could reach $25k/$24k in search of a new low below $26.7k, if there is no increase in buying volume in this area that causes the maximum to be broken.
Regarding the rest of the market there are no major variations, the most negative notes are taken by $GALA and $HT with a result of -10%, while at the top $IDEX (+30%) continues its vertical movement during this quarter and $ORN accumulates a growth of +20%.
In the case of $IDEX, the bullish continuation scenario that I mentioned last week has occurred, which you can review in the link below.
The price has managed to break the $0.10 resistance after a bullish retort and has found a new high at $0.135, an area where it has stopped on 2 occasions, as we can see more clearly in the 4h chart.
A bearish divergence in the RSI is being triggered in this zone of highs, which has left the first peak below 70 in the indicator. This could provoke some rejection from this area in the short term, looking for a lateralization after the breakout. But it should also be noted that the volume continues to be high and that if this continues, the option of a bullish continuation is quite likely, so we can not rule out a break of these highs that could seek ceiling in the area of $0.15.
Finally, remember that nothing discussed in our articles can be considered as investment advice, everyone must do their own analysis and develop their own trading strategy, from the Belobaba team we only show our analysis and investment tools and how they help us in our operations when making decisions.