The month of April closes with a week of low volatility in the crypto market, where the results of most tokens range between -5% and +5%, with a few exceptions that we will see below. This result represents a slight upward rebound in the total capitalisation chart, which after last week's pullback is starting to show signs of consolidation after a breakout.
This leaves a similar scenario to the one indicated last week, in which a new rising low could still be seen around the $1T area, but if it manages to break the high it could start the bullish retracement movement that marks the double bottom figure and could look for a new high in the $1.5T area.
This week has also seen a slight increase in the dominance of BTC, which is once again testing the high resistance area, but for the moment, there is no sign that it can break through it.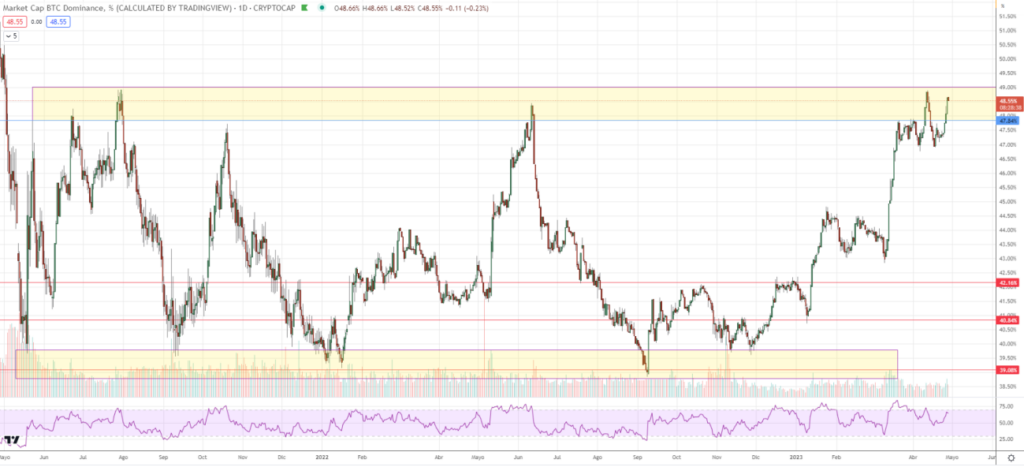 This lack of bullish strength is seen in the RSI, which at the moment remains below 70, waiting for a strong volume entry to confirm the breakout. As long as this does not happen, the most likely scenario is a sideways movement in search of a new rising low.
$BTC continues with its consolidation phase, after last week's pullback that has left the $27k area as short-term support. It has begun a rebound movement in search of a new test at $30k.
More likely a new rising low will be created due to lack of volume, which could fake the $27k level in search of $25k, where it left resistance without a pullback after breaking through it.
Regarding the rest of the market, this weeks highlighted tokens are $EGLD and $ALPHA, which closed above +10%, but above all $IDEX, which closed the week with +45%.
With this weekly increase, the native token of the decentralised exchange IDEX is at the top of the monthly ranking, in which $BEL and $10SET also stand out, exceeding 20%.
But if we focus on the $IDEX chart, we see that despite the weekly growth, its price is still below the long term resistance of $0.10, although it is starting to show signs of optimism.
This $0.10 area is the one that acted as a brake after the short term resistance at $0.08, but if we look closely, this break has occurred with a considerable increase in volume and accompanied by a bullish RSI crossover, which could trigger bullish responses in the coming week. The most optimistic scenario is to see a new test of the $0.10 resistance, but this time it does manage to break through it in search of the next resistance at $0.15.
If this scenario does not occur, the most likely option would be a sideways move between $0.06 and $0.10 as a consolidation after this week's momentum.
Finally, remember that nothing discussed in our articles can be considered as investment advice. Everyone must do their own analysis and develop their own trading strategy. The BELOBABA team only shows analysis and investment tools, and how they help us in our operations when making decisions.