Volatility is reduced in the cryptoasset market after a week marked by the US interest rate hike, in which the FOMC raised rates by +0.25% as expected. This decision, which seems to have already been discounted in the market, is reflected in a sideways movement in the resistance zone, which leaves a situation without much change compared to last week.
The same has happened with $BTC, which has re-tested the $29k level, but so far has not managed to break it. Short term consolidation scenario is gaining strength, which could leave lows in the $25k-$26k area as a pullback before looking for the objective of the Shoulder-Head-Shoulder figure we mentioned last week.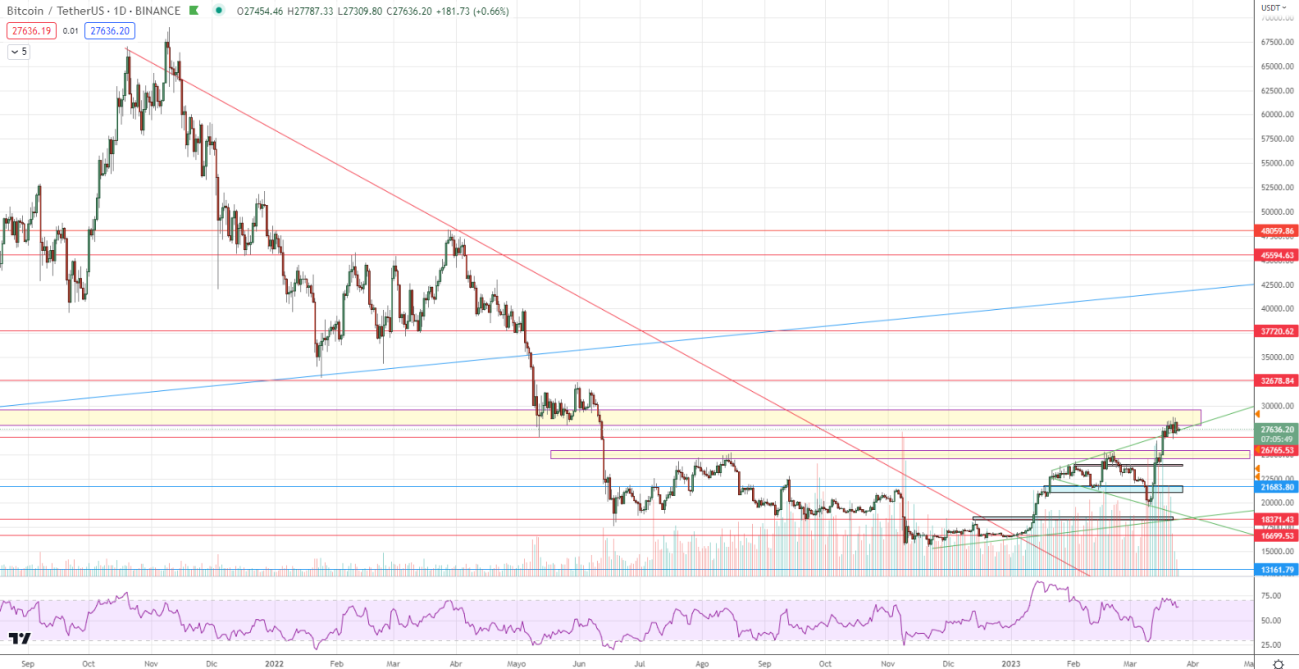 This scenario would be confirmed if a low is created below 26.5k, which would leave a short term double top figure with a target at $25k, as we can see in the 4h chart.
In the event that this resistance at $29k is broken without creating a pullback, which is less likely scenario given the bearish divergences generated by the RSI, would create the next resistance at $32k, although for this option to occur it would require the entry of a much higher volume of buying than we have seen this week.
Regarding the rest of the market, this week the big highlight is $XRP which after a breakout move to the downtrend line, is approaching the weekly close with an accumulated +18%.
This breakout movement that occurred last Tuesday was very vertical, going from $0.39 to $0.49 in less than 24 hours.
As we have already mentioned in other articles, $XRP is a token that tends to be quite decorrelated from the general situation and what happened this week is a clear example of this. While other large-cap tokens such as $BTC or $ETH have closed with small setbacks, $XRP has generated the biggest weekly increase so far this year.
Despite this upward movement, the long-term situation still requires new highs in order to be able to propose a trend change scenario, as the resistance at $0.55 is still holding and is the area to be beaten in order to create a series of higher highs and higher lows that will start to draw that uptrend that $XRP holders have been waiting for so long.
Another token that has been reactivated this week is $LTC. The Litecoin token has accumulated a growth of almost +10%, respecting the growing trend of the last six months.
This bullish trend remains shallow, so it is also necessary to see a break of the resistance at $100 in order to be able to propose a scenario of a long-term trend change. If this resistance becomes strong, the uptrend could be just a consolidation phase to the bearish breakout movement that was created in the first half of 2022.
Finally, remember that nothing discussed in our articles can be considered as investment advice. Everyone must do their own analysis and develop their own trading strategy. The BELOBABA team only shows analysis and investment tools, and how they help us in our operations when making decisions.