February was a bad month in general for everyone. Last 24th of February at 6:00am Rusia started the invasion of Ukraine, and the war is always bad news.
That situation of the markets was improving, if you compare it with last months but the beginning of the war and its consequences have brought more uncertainty to the crypto markets and gaming has not escaped.
Following this sentiment, game dapps lost 13% of the daily usage registered in February, but even so, more than 1,1M of UAW, unique active wallets, connected daily to blockchain games, which means 49% of the total usage in blockchain industry, a not insignificant figure.
Gaming and Metaverse follow the negative trend
As expected, the gaming and metaverse tokens have followed the negative trend of the last months that dragged the crypto market.
Projects so important such as Decentraland, The Sandbox or Gala have dropped up to 66% like Mana, but their prices are still high compared to their prices in October.
You can see in the following image, the price comparison with BTC.
This uncertainty is very probable to keep going due to the global geopolitical and economic situation, this is a reminder that we have to look at long-term projects and that this has only just begun, and game trends and signals are bullish in that period of time.
Top 10 Blockchain Games
These are the top 10 blockchain games by average Daily Unique Active Wallets in February 2022, according to DappRadar.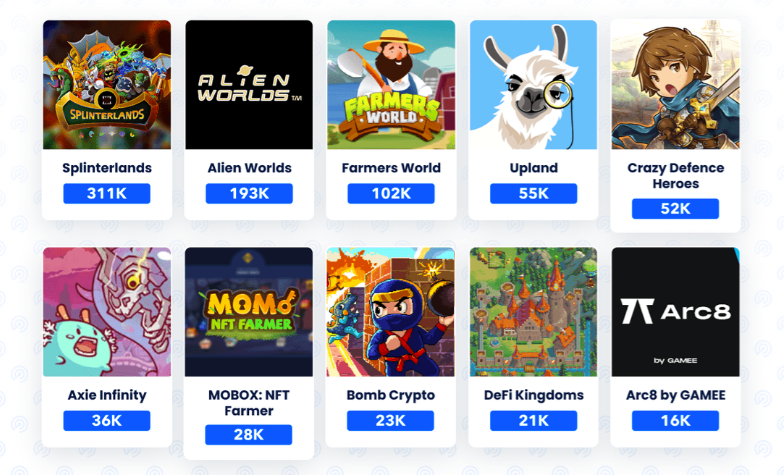 We can observe that there is only a change in the top five regarding January, Crazy Defense Horse has taken fifth place to Axie.
Pace of investment keep going
Show me the money! Shouted Cuba Gooding Jr. to Tom Cruise in Jerry Maguire … and that's happening in blockchain games.
The capital invested in February is $722 million, a little bite less than in January but we can still saying that the money is flowing to gaming and if the investments keeps coming at this pace, the $4B of 2021 will be far exceeded.
As we can see in the picture before, Animoca Brands is growing its investment quickly and it's becoming the most important player in this sector. Their bed for blockchain gaming is doing that the company is growing and their market valuation is already $5B.
But the most important is that they are becoming King Midas of blockchain gaming.
Another important player is Polygon and they are increasing their activity in games. This network is the fourth largest in game activity and only Hive, Wax and BNB Chain are ahead of it.
And as I explained in my last article (in Spanish), Avalanche is pushing hard in order for new games to be implemented in their subnets.
Top games consolidate their fans
Despite, as we have explained, the market situation and the drop in players, the big games such as Splienterlands, Axie, Upland, among others have managed not only to maintain their players but even to expand them. Besides, the "new" games such as Defi Kingdoms, Crazy Defense Horse or Mobox, have kept growing or consolidating their trend.
That means that although Gamefi is still in development and has laid the foundations to become a mainstream trend, the evolution of the numbers suggests that the sector is going to bring us a lot of joy.

What's next
All of us are waiting for the solution of the geopolitical and economic problems that are more important than the Gamefi.
We have seen that despite the crypto market situation gamers keep playing and are interested in new games to have fun and earn crypto, and, from my point of view, that's the key.
The interest in blockchain games keeps rising and we can see this not only in investment but also in new projects. In the same way, the word metaverse has been a trending topic and there are hundreds of brands interested in being there.
I think we are still waiting for the "Holy Grail" of games, that game that changes the sector and everything in gaming … but unfortunately, we are still waiting for it.
But in the meantime, the sector prepares to keep building and developing, there are upcoming events that are worth keeping on the radar, including:
Avalanche subnets gaming launching. Games such as Ascender or Srapnel will be launched in a short period of time.
Axie Infinity Origin: Axie is preparing important changes to its ecosystem including the expected release of the Origin season, bringing a more dynamic play-mode.
Gala Games wants to include a new shooter to its game and new functionalities to their catalog.
And of course, we have to keep a close eye on what is happening with games like Illuvium or Star Atlas.
And don't forget Outer Ring, they are doing fantastic work and growing every day, with new collaborations agreements. I feel that this project will change a lot of things in this sector.
From Belobaba point of view, we are still bullish with Gamefi. It is healthy for the market there to be corrections and for games to evolve to what gamers want. We have to trust the projects and leave the price of the token a bit aside, and use it as another tool within the project to help validate if it is really the gamers who are accepting the project under other criteria and metrics.
If you want to know more please tell us!