Surely many people who do not understand what is behind this technological revolution think that there is no one who can speak seriously of a scenario like this. In our fund we do not have such optimistic or long-term expectations, but this hypothesis is the one used by Kathie Wood, the Founder and Manager of ARK Invest, one of the most daring investment firms, recognized and admired for its extraordinary results in recent years and his correct vision. Oh, and he manages a fund of 50,000 million dollars.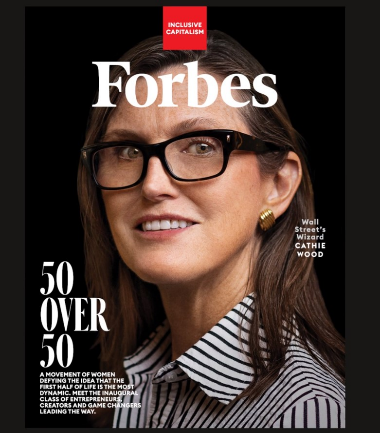 ARK has just released a report with Big Ideas for 2022. The calculation of the value of BTC in 1M$ is based on a crypto market estimate for 2030 of 49T (now we are at 2T) and a BTC dominance at 57% (percentage of the crypto market that BTC has, today we are at 42%).
We could argue Kathie about this dominance data, for me the biggest threat to BTC is that it will be overtaken by another crypto with technological improvements, be it ETH or any other. But even disputing this and her possible over-optimism, I think what is to come is a tremendously optimistic scenario for the crypto market.
But what data is Kathie basing her optimism on?
1) The El Salvador experiment is a total success:
3.8 Million people in El Salvador have wallets (84%), while only 1.9 million traditional banking (42%).
Wallets are used! (2M in daily transactions).
12% of the money sent to El Salvador is via blockchain (6B annually), which is equivalent to 2% of GDP.
2) BTC surpasses Visa in volume in 2021!!!
BTC reached 13.1 Billion in settlement volume a 120% of Visa.
BTC grew x5 over the previous year.
This is mainly due to whale movements (large investors).
The average transaction value went from $21,590 to $136,555, which shows that ETFs, countries and companies have entered strongly to invest in BTC (this increase is much higher than the increase in the price of BTC, it is another investor profile that is entering).
3) But what is this new investor profile?
Well, although it is hard to believe it, it is NOT speculative, they are Hodlers (they look at the long term). More than 50% of investors are long-term investors and this trend has been growing since 2011.
But let's take a closer look at Kathie's calculation. Let's look at the following chart: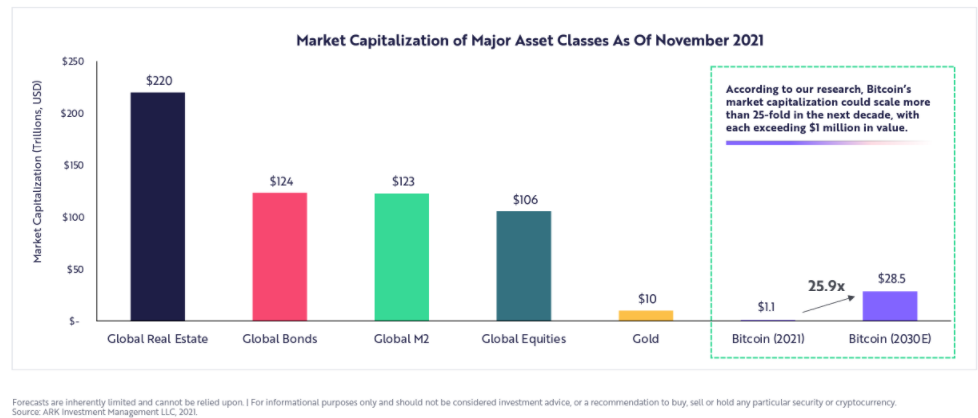 Interestingly, the first time I saw an approach like this to calculate the value of BTC was from Albert Salvany, our Head of Trading and leading crypto economist.
Albert has designed a small excel file to play hypotheses about what market share BTC can take from Gold, the dollar,… and based on these hypotheses he obtains an estimated value for BTC. Let's see his example: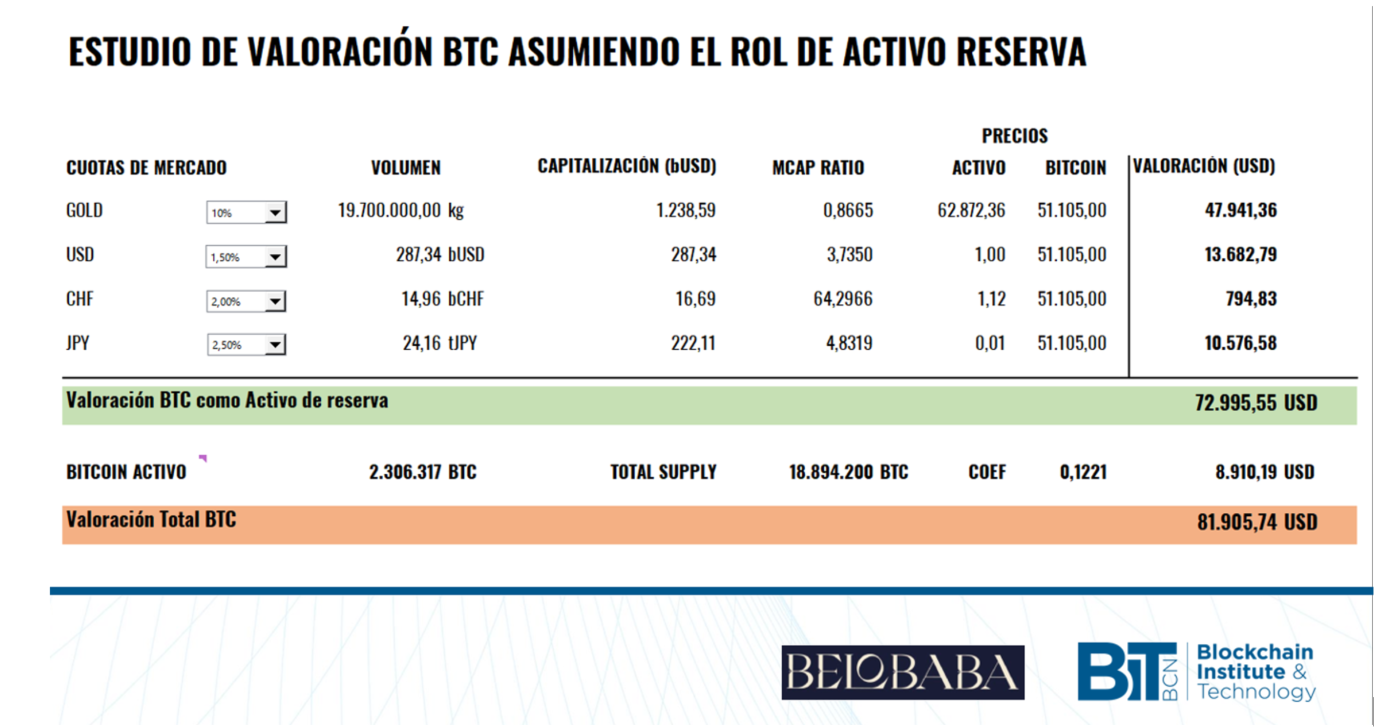 Kathie is more optimistic, especially looking longer term. In her comparison she estimates that BTC has a market cap of $28.5T while gold is today at $10T and the bond market at $124T.
Let's look at the main assumptions on which Kathie bases her assumption that BTC will reach $28.5T:
ARK estimates that by 2030 the crypto market share as a store of value of gold will be 50% (digital gold), i.e. 5.5T.
It estimates that 5% of the balance sheet of companies will be in Crypto (Tesla as an example) which brings 4.2T.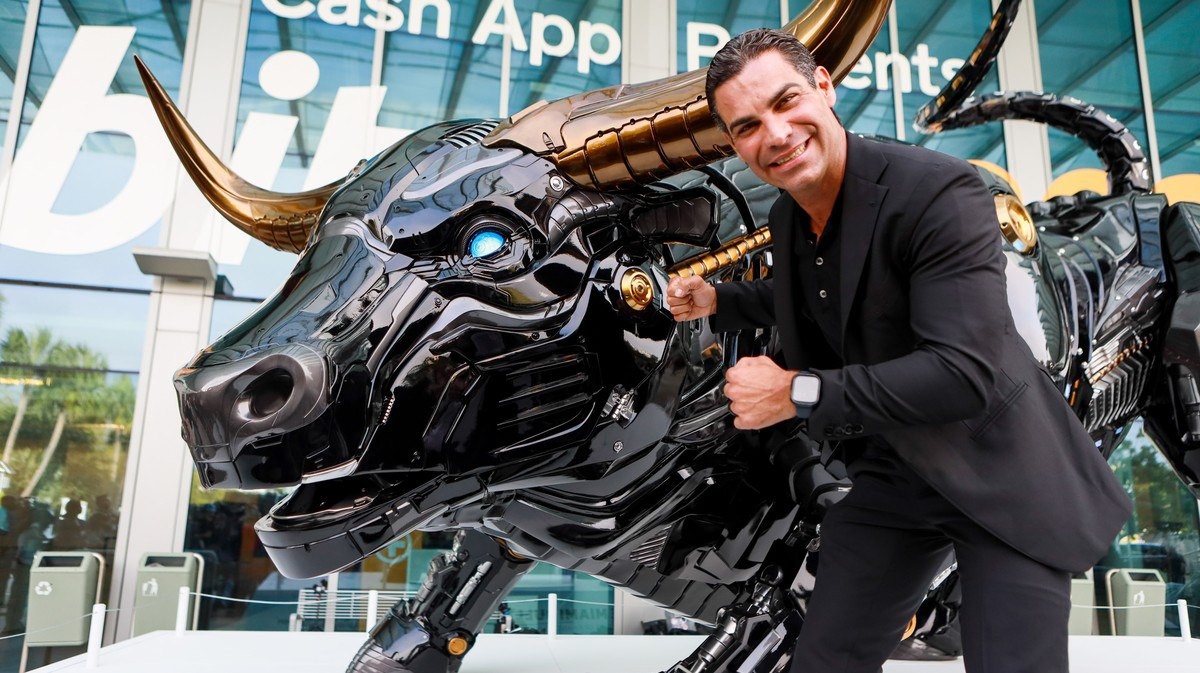 Institutions will have 2.55% of their assets in crypto, i.e. $4.1T. As we have published many times in Belobaba, institutional adoption is unstoppable, we have new examples every week (in the picture, Miami Mayor Unveils Laser Eyes Robot Bull Statue at Bitcoin Conference yesterday).
Individuals who allocate 5% in their portfolios to crypto, which will mean 4T more.
Countries (such as El Salvador) that will keep 1% of their reserves in BTC, which means 3.8T. To me this assumption is modest, if they enter a scale of inflation and global competition the adoption can be much higher. And cities will have to move also into crypto. The city of Rio has already it's 1% of ot's treasury in crypto.
BTC usage of 25% of all interbank transactions in the US which is $2.8T. This hypothesis also seems moderate, since the technological advantages in terms of cost reduction, speed and security are evident.
Substitution of emerging market currencies worth $2.8T. It makes sense if we see the correlation that exists in the % of BTC adoption in countries with weak and inflationary currencies (Turkey, Bolivia, Nigeria, etc).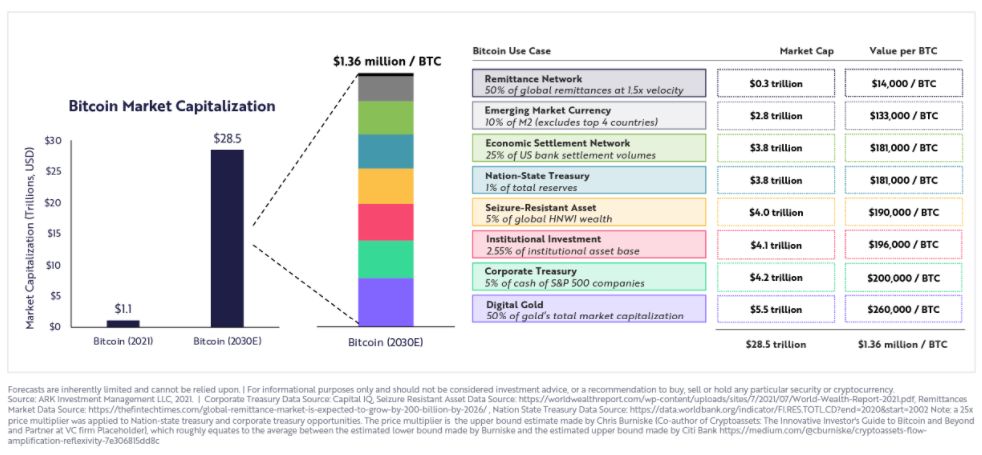 Apart from discussing the optimism or pessimism of each hypothesis, what I like is that it makes an orderly approach to the multiple value propositions that BTC brings to the market.
If only one of Kathie's assumptions is partially fulfilled, we are in a scenario in which BTC is going to revalue by multiplying its current value.
Where else do we agree with Kathie?
Risk of investing in innovation: one of the warnings they issue is regulatory risk. We agree with that. That's why it's so important for Belobaba to be one of the first crypto funds regulated in the US and Europe. And believe me, that is no easy task.
Another of the Big Ideas that they believe will change the world is Artificial Intelligence. And we also agree on that. That is why Belobaba is making a great effort to strengthen Subutai, its AI area. But make no mistake, for Belobaba this is not an R&D area, it is a functional, operational area that generates two winning Trading strategies that since we started operating have earned 40 basis points from ETH (we have earned 40 % more yield than ETH in the same period). We are not just a future promise, we are a reality.
Another of his Big Ideas is that technology converges.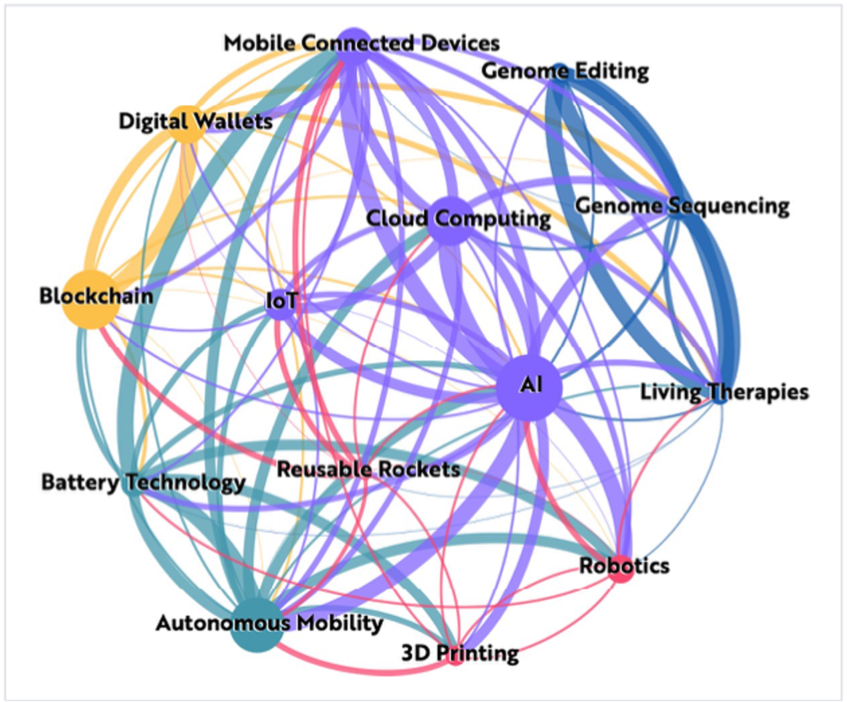 They have identified 14 transformative technologies and come to say that their social and economic impact will come not only from the evolution of each of them but also from their convergence. That is why at Belobaba we find it so interesting to mix AI and Blockchain. We are positioning ourselves today in this convergence of two technologies destined to change the world.
By the way, Kathie's estimate of the AI market capitalization would go from 10.5T today to 108T in 2030 (x10).
So if we only grab a small piece for our investors from AI (x10) and Crypto (x25) cake in 2030 that ARK projects, I think we will be able to meet all their expectations 😉
Next week I will give you the second part of this article, a brief summary of how AI can change the world and its impact on the crypto ecosystem.
Health and Crypto!!