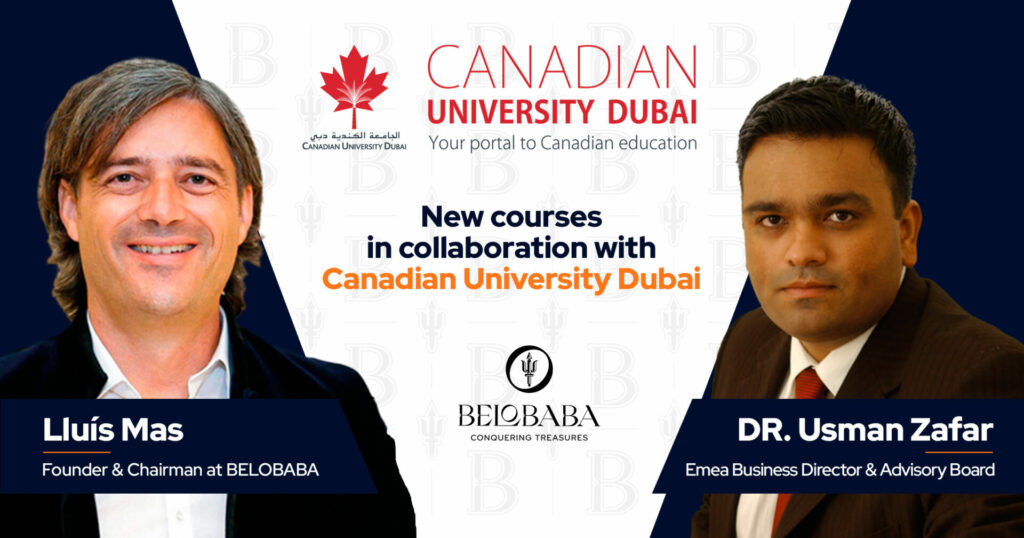 We are excited to share with all of you the long-therm partnership initiated between CUD Canadian University Dubai and BELOBABA.
Some figures of Canadian Dubai University:
Ranked #1 in university Dubai (QS World University Rankings 2023)/(THE Impact Rankings 2022).
Ranked in the top 541-550 worldwide and top 4 in the UAE (QS World University Rankings 2023).
Ranked #7 for International Students and #8 for International Faculty worldwide (QS World University Rankings 2023).
We were last week in Dubai with Dr Usman Zafar MENA Manager of BELOBABA and Hanane Ellaiti M.ED Head of Corporate Partnerships/Business Strategies with Lluís Mas founder and president of BELOBABA.
BELOBABA and CUD are launching 2 revolutionary courses :
First one is Digital Assets Management and Valuation Program.
The objective of the course is for students to learn to value and manage professionally a portfolio of digital assets. Targeting applicants from Banking, Corporates, Asset Managers, Investors, professionals from finance industry.
Second one, eSports & Gaming Management Specialisation
The objective of the course is to provide a wide view of the gaming business, to understand the structure, how it's organised, the different business models, the value propositions of:
Context of esports and blockchain technology
The figure of the publisher in esports and blockchain technology
Esports Marketing and Blockchain Technology
Legal framework of esports and blockchain technology
Blockchain technology in esports
Management of esports clubs and blockchain technology
These two premium courses running in Dubai by CUD and BELOBABA will help leaders and entrepreneurs from one of the most important business hubs of the world, UAE, to lead their organizations to the top.