Another week with little change in the cryptomarket's largest cap assets, leaving a very similar scenario to last week, with new lows being created at the start of the week, but no strong breakout volume. This lack of volume leaves a weekly sideways range between $2,800 and $3,000 on $ETH and between $37.5k and $41k on $BTC, which continue to leave the same macro scenario on both tokens.
This lack of volume with directionality leaves the crypto volatility index (CVI) in the same situation as last week, in a low zone with nearby support.
Despite the low volatility recorded, we have detected some tokens that have shown signs of growth, such as $APE. The APE Ecosystem governance token generated a +50% move in just 4 days.
ApeCoin is an ERC-20 utility and governance token used within the APE Ecosystem. ApeCoin holders make governance decisions through the decentralized framework that controls the ApeCoin DAO and vote on how the ApeCoin DAO Ecosystem Fund should be used.
ApeCoin DAO aims to build and maintain the APE ecosystem in a fair and inclusive manner by providing an infrastructure for ApeCoin holders to collaborate through open, permissionless governance processes.
ApeCoin also provides access to certain parts of the Ecosystem that would otherwise be unavailable, such as exclusive games and services. For third-party developers, ApeCoin is a tool to participate in the ecosystem by incorporating ApeCoin into services, games and other projects.
The APEcoin token was launched in mid-March 2022 and was listed on several exchanges, so we don't have enough price history to do a long-term technical analysis, but we can analyze the evolution since launch, which has helped us to make short-term decisions.
From the time of $APE's listing on the Binance exchange, the price generated a pump & dump movement, which led it to touch $28 to drop below $10 and subsequently generate an increasingly narrow market range between $18 and $9, which left higher lows and lower highs and formed that flag-shaped triangle we see on the chart.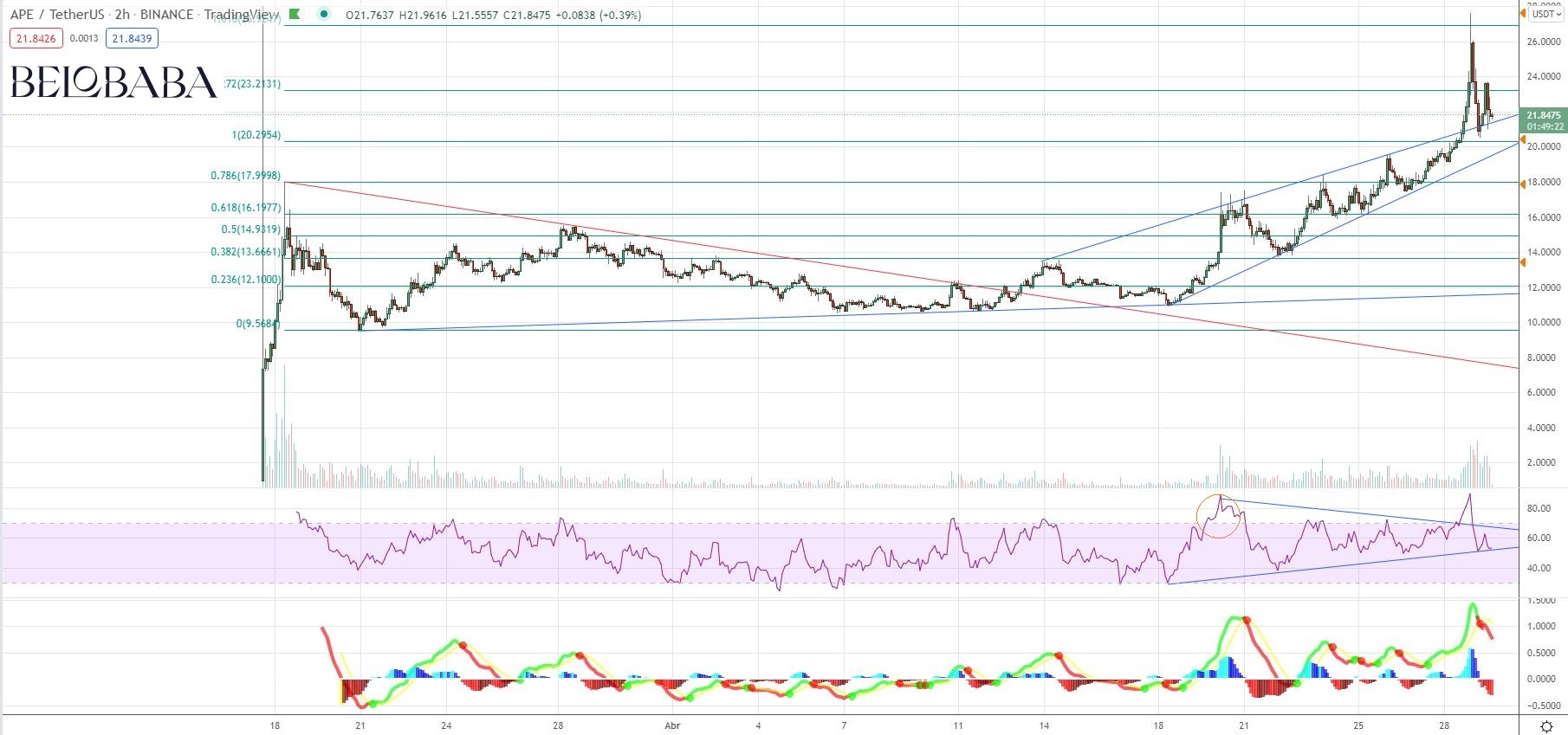 During the week on April 18, we saw how the price began to make higher highs and higher lows, breaking the bearish trend line and generating a bullish RSI crossover to the 70 zone with an increase in trading volume, which alerted us to the possible movement of a replica.
If we enlarge the chart we can see how after this movement a bullish wedge formation is generated, which allows us to perform a bullish continuation operation within a generally bearish market.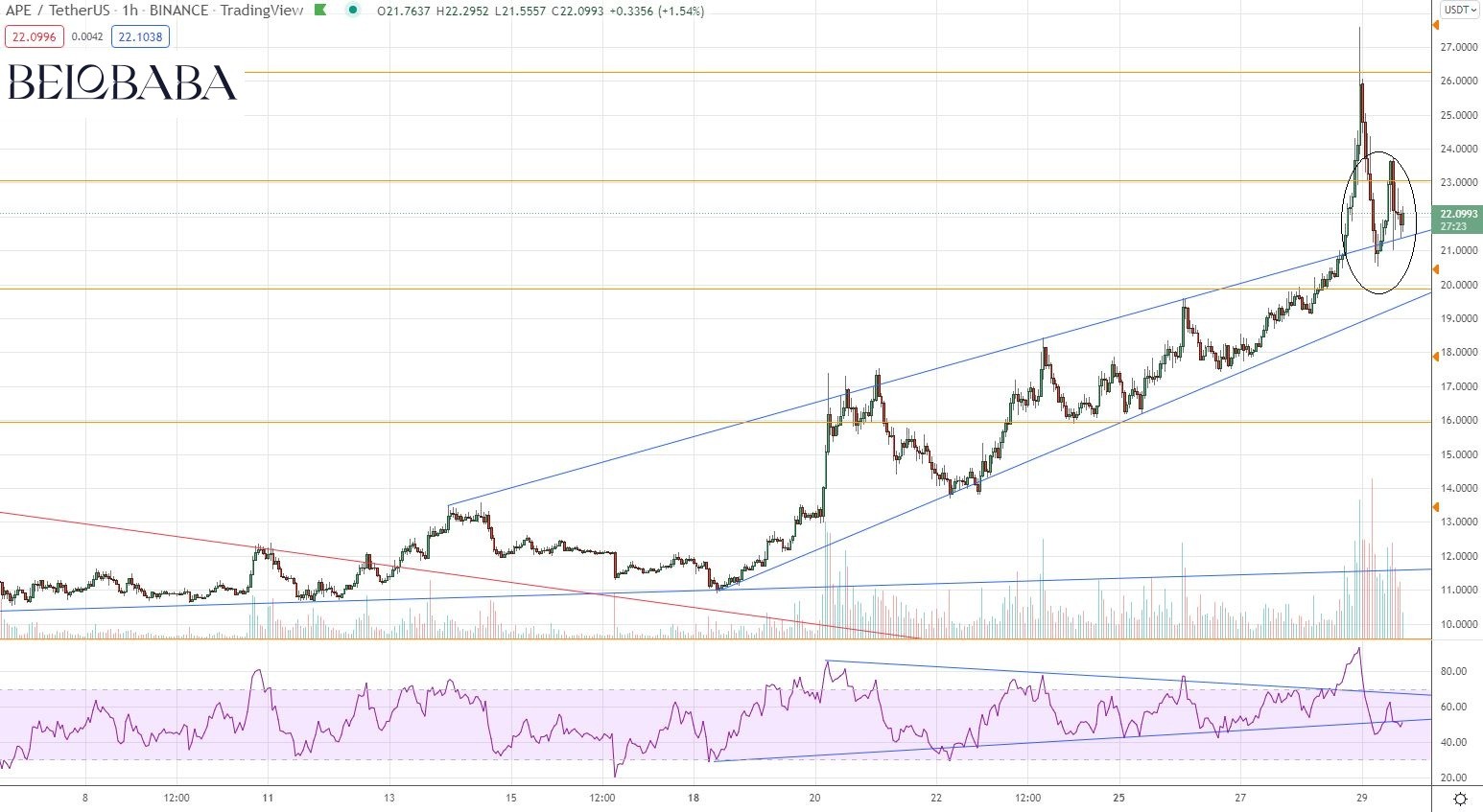 During this week we have seen how that bullish wedge developed with a much more exponential move on Thursday, April 28, which generated that support at the resistance of its ATH, very close to $28.
If we focus on the current situation, the price has bounced strongly from the resistance, although at the moment it has found support at the top of the wedge turning the trend line that was acting as resistance into support.
We will have to follow closely the evolution of the price and especially the trading volume of each movement to raise possible scenarios in the short term, since the rejection of resistance was very fast and with bullish volume, which leaves us a range to stay between the uptrend line and $28.
Going back to the initial chart to make a possible medium to long term estimate, if we see a volume breakout from the ATH zone ($28), that flag formation I mentioned earlier has medium/long term technical targets that could be triggered at $36 and $44.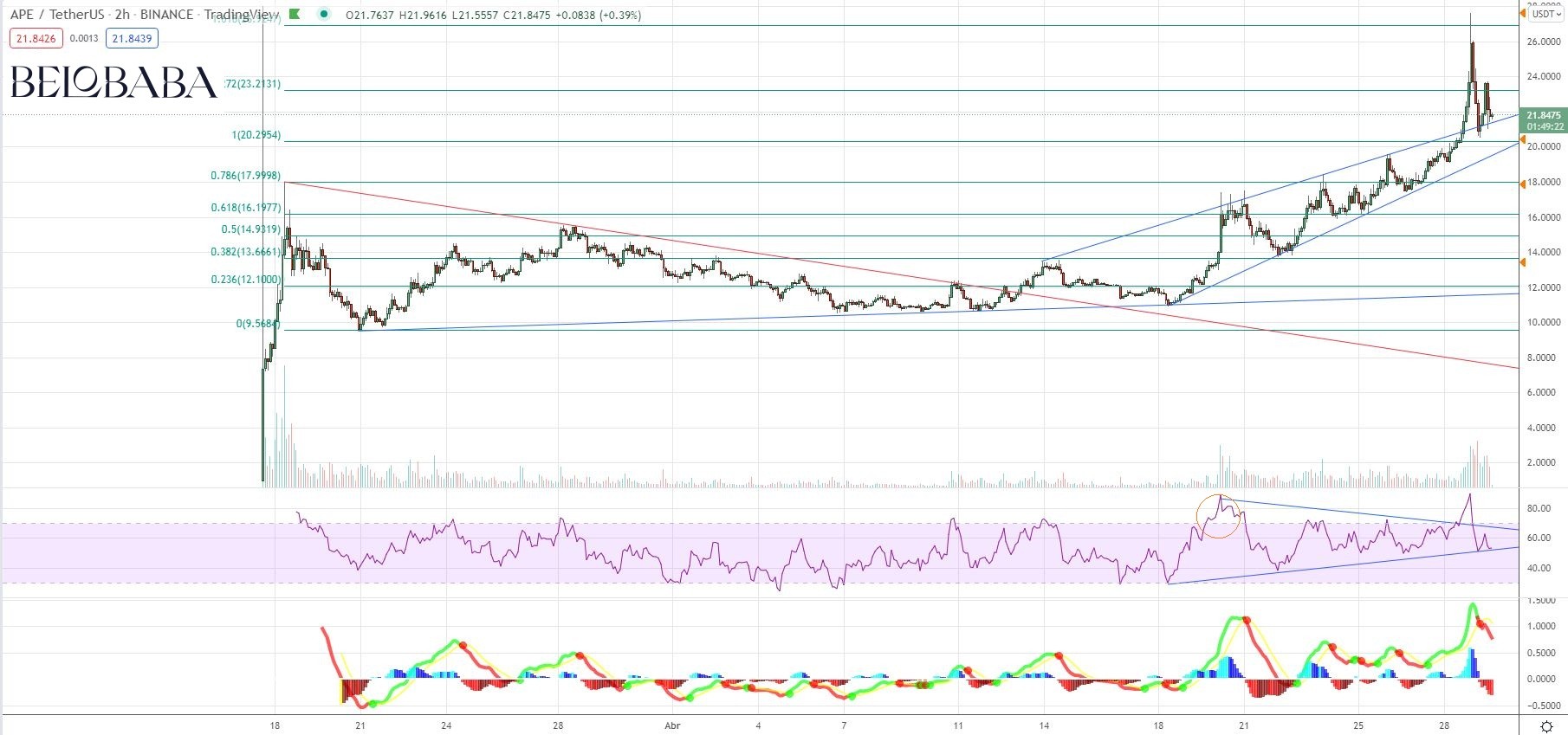 If on the contrary we see the break out to the upside, the areas of price confluence that can act as supports are $16 and $13,50.
Finally, remember that nothing discussed in our articles can be considered as investment advice, everyone must do their own analysis and develop their own trading strategy, from the Belobaba Crypto Fund team, we only show our analysis and our investment tools and how they help in our operations when making decisions.